A honey-glazed gammon joint is a firm favourite for the festive season and this mouthwatering recipe is sure to be a hit at your Christmas feast. Made using our traditionally cured gammon, this dish offers great depths of flavour and superb quality.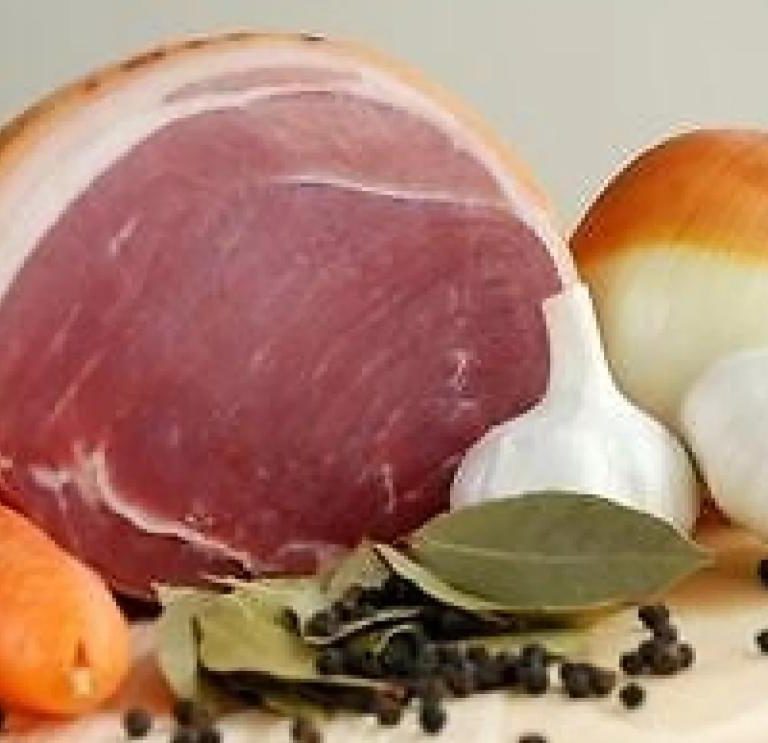 Honey Glazed Gammon Recipe
Instructions
Start by dicing the onion. 

Place the gammon joint in a pan with cold water. Make sure the water covers the entire gammon.

Add the bay leaves, peppercorns and onion to the pan and bring to the boil.

Cover the pan with a lid and simmer for around 1.5 hours. You may need to top up the water whilst it cooks.

Take the gammon out of the pan and place on a baking tray.

Preheat your oven to around 200 degrees Celsius.

Score the fat of the gammon to create a diamond pattern.

Mix the honey and mustard to make the glaze and brush over the fat of the gammon.

Press the cloves into the fat at the corners of each diamond.

Cook the joint in the oven for around 10 minutes.

Remove the gammon and brush with more of the glaze, then place back in the oven for another 15 minutes.

Once the top layer is crisp and golden in colour, remove from the oven and serve.
Notes
This delectable dish goes well with roast or mashed potatoes with a side of greens for a festive favourite the whole family can enjoy. 
Always ensure meat is cooked thoroughly before serving. 
For this recipe, we used our unsmoked gammon joint which has been expertly cured for exceptional flavours. For more offerings, take a look through our festive range and complete your Christmas meat order with Tom Hixson of Smithfield. We bring you everything you need for the big day, including our superb turkey butterfly, jumbo pigs in blankets and cured salt beef. 
honey glazed gammon recipe, Christmas gammon, how to make honey glazed gammon