WHAT IS IBERICO PRESA?
Said to be the finest cut from the Iberico pig, Iberico pork Presa is carved from the shoulder and is full of unparalleled flavour due to the pigs' natural acorn diet. Its well-marbled properties result in a tender and succulent meat, allowing for rich flavours that need minimal seasoning.
From the Iberian Peninsula, Tom Hixson of Smithfield's range of Iberian Presa is part of the Iberian pork range that features a selection of delicious cuts that are well-sought after around the world.
Along with its second to none flavours, Iberico Presa stands out from other pork dishes as it is typically cooked to the perfect medium-rare instead of well done.
The perfect dish to add to your list of pork recipes, this Iberico Presa recipe by the team at Tom Hixson of Smithfield is ideal if you're looking for a bit of premium quality taste at home.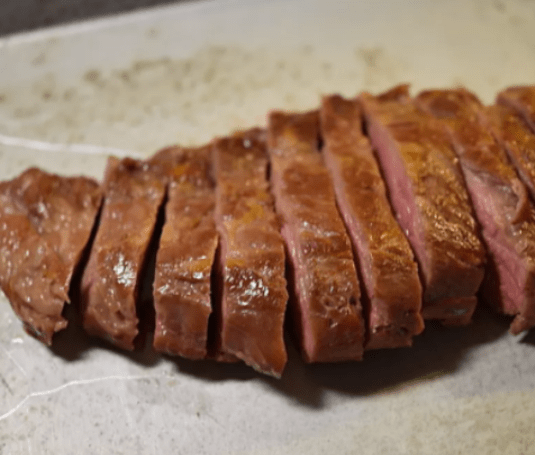 How To Cook Iberico Pork
Instructions
Preheat the oven to 180 degrees Celsius

Trim the pork Presa of larger lumps of fat and sinew

Use sea salt and pepper to season the meat, or use your own preferred choice of seasoning

Heat the olive oil in a frying pan

Fry the Presa for 5 minutes on each side to achieve a golden-brown crust

Transfer to the oven and roast to your preferred level of doneness, flipping the meat after 5 minutes. Iberico Presa is typically cooked to medium-rare which should take 10 minutes overall

Remove from the oven, wrap in tinfoil and leave to rest for 15 minutes

It is then ready to be sliced for serving.
Notes
You can also grill Iberico Presa thoroughly to the desired temperature and doneness.
Pair with buttered potatoes or fries, roast vegetables and a lavish Pinot Noir for an unforgettable dining experience.
Now you know how to cook Iberico pork, browse Tom Hixson of Smithfield's range of Iberian Pork and Iberico Presa today, and discover premium-quality pork from a premium-quality brand.
How To Cook Iberico Pork, Iberico pork recipe