Want to learn how to cook the perfect sirloin steak? Take a look at our latest recipe in collaboration with top chef Harvey Ayliffe, who shows you how to cook the perfect sirloin steak.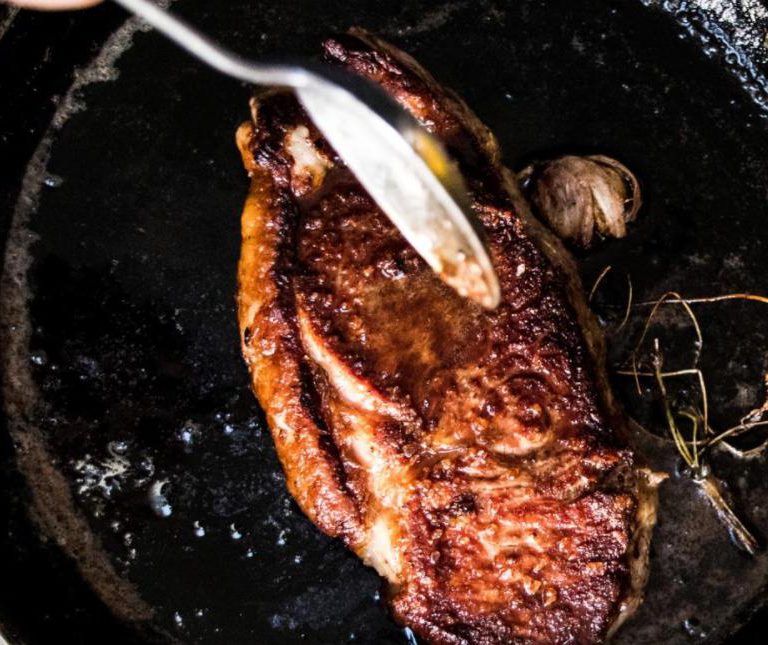 How To Cook The Perfect Sirloin Steak
To prepare the meat, take your sirloin and remove the chain but don't throw this away. Remove the sinew and a small amount from the tip.

Cut the meat into steaks, keep each a good size whilst maintaining some fat along one side and along the top of the steak.

Season each steak with rock salt and some pepper.

Heat your pan and add the oil. Place the steaks in the pan on their side, with the fat facing down. This will render the fat.

Once the fat has browned, turn them over so they are flat.

Once coloured and well sealed, turn over and cook the other side. Cook the steak to your preference (rare, medium or well done).

Add the butter, crushed garlic and thyme to the pan and use this to baste the steak.

Remove the steak from the pan and leave it to rest for a few minutes. While it's resting, add some more salt and pepper

Serve and enjoy.
Notes
Harvey's Top Tips - 
Be sure to use plenty of seasoning. Around half the seasoning is lost when it hits the pan so ensure you add plenty of salt and pepper when the recipe calls for it. 
Take the meat out of the fridge around 30 minutes before cooking. Bringing it to room temperature will make it easier to cook. 
For this recipe, Harvey has used our USDA Choice Sirloin, a superb cut of beef that is perfect for sirloin steaks. 
how to cook the perfect steak, how to cook steak, cooking steak, steak tips