Named after 19th century composer Gioachino Rossini, this fillet steak Rossini recipe is a classic French dish that oozes luxury and is ideal for special occasions.
Made with beef fillet, Rossini fillet provides rich flavours that are bound to please dinner guests, and perfectly pairs with a lavish red wine for a full experience of luxurious flavours.
Also commonly known as Tournedos Rossini, today we'll be talking you through cooking fillet steak Rossini , which features a Madeira sauce recipe that you can make at home.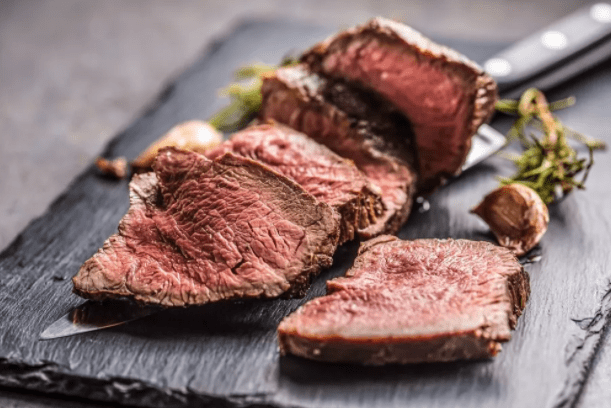 Fillet Steak Rossini Recipe
Instructions
Take your beef and season it thoroughly with the salt and pepper

Heat a frying pan, add the oil and some of the butter and seal the beef on each side for three minutes before removing it from the heat and resting aside

Heat a sauté pan until it's hot and add some more of the butter and the onion. Fry until the bottom of the onion is browned and then add the Madeira and cook until it's reduced by half

Add red wine and stock before cooking once more until it's reduced by half again. Strain into a clean pan and whisk 25g of the butter in before seasoning with salt and freshly ground pepper

Heat a frying pan and add more butter and spinach. Cook until the spinach has wilted down then season with salt, pepper and nutmeg. Drain the spinach onto kitchen paper

Heat the final amount of butter in a clean frying pan until it foams, then add the brioche slices and cook them until each side is golden brown. Remove from pan and place to drain on kitchen paper

Serve by laying the brioche onto the centre of the plate and spreading duck liver pâté on top. Place a pile of spinach over the rested steaks and finish with a ladle of Madeira sauce over the top.
Notes
For more delicious beef recipes as well as a wide range of other foodie news, keep an eye on our blog.
Take a look at our range of fillet steak online today and discover everything from Wagyu Fillet Steak to USDA beef to locate the finest produce for cooking fillet steak Rossini.
fillet steak rossini recipe, steak rossini recipe, cooking fillet steak rossini, cooking fillet steak