If you're looking for an Easter recipe then this beautiful butterflied leg of lamb is the perfect dish to serve up. Harvey Ayliffe shows us how to make the ultimate leg of lamb, accompanied by a Tzatziki inspired dip and a salsa verde dressing.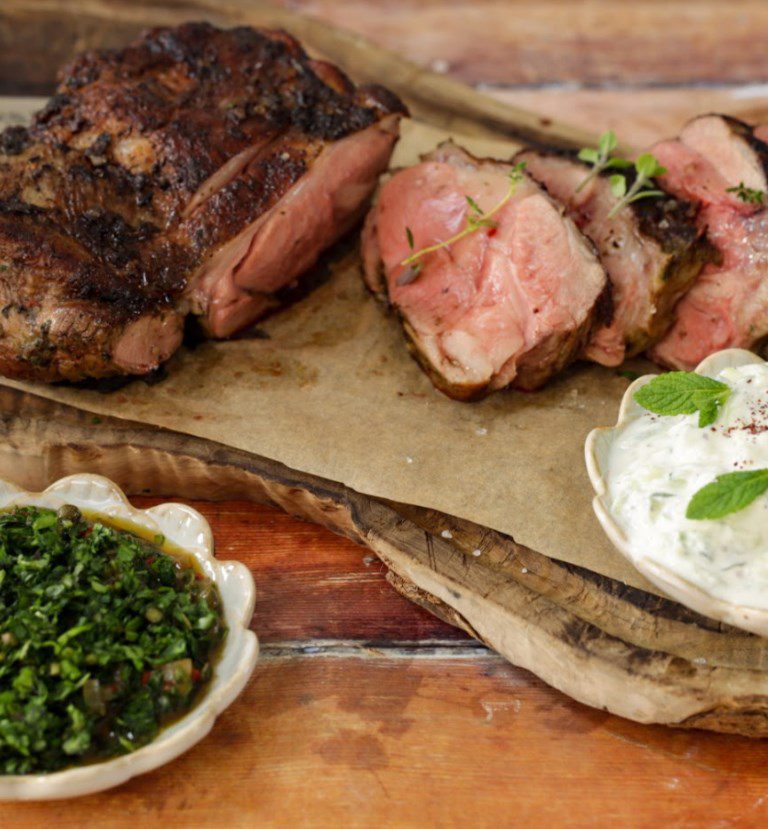 Easter Recipe: Butterflied Te Mana Lamb Leg Recipe
Butterflied Leg of Te Mana Lamb
For The Marinade:
Cucumber & Yoghurt Dip
Salsa Verde
Lamb and Marinade
Blend all the marinade ingredients, rub on the lamb and leave to marinate for up to 24 hours.

Remove lamb from the fridge 30 minutes before cooking.

To cook the lamb, seal it off well in a pan then preheat your oven to 170°.

Place your lamb in the oven for approximately 40 minutes or until it probes with a centre heat of 40° degrees.

Remove from the oven and rest it for about 40 minutes, reserve in the cooking juices.

To serve, put your meat back in the oven for 5 to 10 minutes to heat through.

Now to slice. Make sure you're going against the grain not with it as meat will be tough

Serve with your dips. This goes perfectly with a nice Greek salad and some fresh Jersey Royals.
Cucumber & Yoghurt
Grate your cucumber and mix everything in a bowl. Season well with salt.
Salsa Verde
Add your onions, garlic and chilli in a pan just covered with vinegar

Add your sugar and put on the heat. Reduce the vinegar by half.

Now add the resting juices from your Lamb into your pan and reduce by half 

Now whilst whisking your olive oil, add your capers and let it cool

Finally add your herbs that you've chopped to taste for seasoning then serve
Notes
About Te Mana Lamb:
The combination of the finest breed, New Zealand's unique and diverse landscape, state of the art farming practices and Te Mana's secret feed – chicory.
The result of a ten-year farming programme, this breed of sheep has a different type of fat, an intramuscular fat, higher in Omega-3 with Wagyu beef style marbling on a micro scale. Something never seen before on lamb. The result is an entirely new eating experience. Delicate, clean and tender.
The free-range lamb is raised at high attitude on the pastoral land of the South Island in Spring, and then grazes on chicory pastures in the summer. It's during those last thirty days living on the chicory pastures, where the higher levels of Omega-3 and polyunsaturated fats are produced. Resulting in a milder tasting, premium quality lamb, that's versatile to cook with.
21 day aged, Te Mana Lamb is finely marbled, and holds it's shape and texture.
For this latest lamb leg recipe, Harvey has used our Te Mana Lamb Leg which you can find in our latest bundle, the Te Mana Lamb Meat Box. Along with the 1.8kg leg of lamb, you'll also receive four lamb chumps and the Te Mana Lamb French Trimmed Rack. 
For more fantastic cuts, shop the rest of our Lamb online at Tom Hixson of Smithfield, where we provide a superb range of New Zealand lamb. Quality produce that delivers extraordinary flavours and textures with every bite. 
Related Recipes:
Take a look at our other recipes, such as our perfect Sunday roast or our slow cooked pork collar. 
Easter Recipe, Lamb Leg Recipe, Easter Lamb Recipe