Check out this latest recipe from Artust BBQ for chicken and chorizo kebabs. Features sizzling chorizo paired with marinated chicken and served with homemade flatbreads.
This is the perfect summer BBQ dish to serve for family and friends. A little prep in advance leaves a super quick cook when guests arrive, meaning more time to sit down and enjoy. You can scale the recipe up or down as you see fit. (P.S, it's a messy one, so grab the napkins!)
About Artust BBQ
Artust BBQ is a Traeger Ambassador and contributor for ukbbqreview.co.uk. They have cooked in various BBQ competitions, both in the UK and the US, including the Jack Daniels World Championships in Tennessee and the American Royal in Kansas. Follow them on Instagram @ArtustBBQ for more fantastic BBQ content.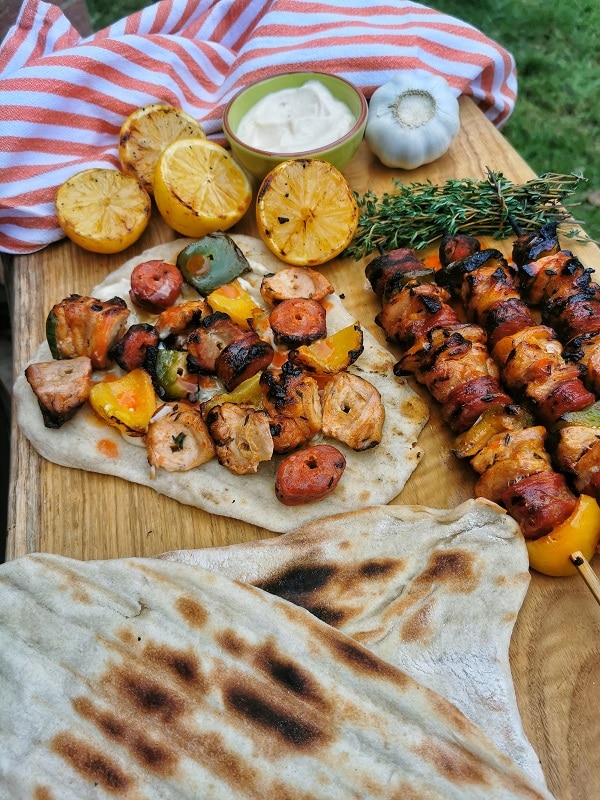 Chicken and Chorizo Kebabs
Prep is key with this. Get the chicken prepped and in the marinade in advance, and make your dough so you are ready to go. 

In a bowl add the olive oil, red wine vinegar, the smoked paprika, garlic, 2 tbsps of the honey and thyme and add a good helping of freshly cracked black pepper. When your chicken thighs and chorizo are cut up, add ¾ of the marinade over the top and mix well, keep back the rest of marinade to brush over the skewers later. Before you put the last part of the marinade aside, add the remaining 1 tbsp of honey. Ideally you would leave the meat to marinate overnight in the fridge but, if you are pushed for time, a minimum of 2hrs will be ok. 

Now that is done you can turn your attention to the flatbreads and they couldn't be anymore simple.  Start by mixing the flour, olive oil, salt and yeast together in a big bowl. Add 350ml water and start to knead into a dough – this can be done by hand, or by using a mixer with a dough hook. Empty out your dough onto a well-floured board or table and knead until the dough is smooth with a stretchy and elastic texture, this could take up to 10mins. Then move the dough into a bowl, where you have oiled the sides to help with sticking. Move the bowl aside and leave for around 1hr and the dough should have doubled in size. 

Now quickly knock the dough back and cut up into 8 balls which will weigh roughly 150g each. Flour up your work surface and roll each ball out until they are the size of a small 6″ pizza but don't worry about the shape. 

Build your kebabs by threading the chicken, chorizo and peppers onto the skewers. Oil the bars of your BBQ/Grill and add the skewers over a medium heat or make sure the coals are ashed over and flames have died down. Keep turning the skewers every minute or so to ensure they don't burn, move around the grill to a cooler spot if needed. This should take up to about 10 minutes to ensure the chicken and chorizo have cooked through and the peppers have softened. For the final minute, brush on that last bit of the marinade topped up with honey over the skewers before removing from the BBQ/Grill.  Place your lemon halves/wedges onto the grill, flesh side down and leave for about 1 minute until nicely charred. 

While the kebabs are on, oil another area of the BBQ grates and throw the dough on, one or two at a time, over a medium heat. When you see bubbles start to form flip them over and cook on the other side. 2-3 mins per side should be fine, but as it's the BBQ adjust as you need to. You can keep the cooked ones warm in either tin foil or in a tea towel. 

Serve by pulling the kebab contents off the skewer and onto a flatbread and finishing with a squeeze of the charred lemon. We added some garlic aioli and hot sauce to ours too. But you could also have a mint yoghurt dip or whatever takes yours or your guest's fancy. You'll need a napkin – enjoy!
Notes
To re-create this latest recipe, we have some fantastic skinless chicken thighs and  chorizo sausages which are perfect for these sizzling kebabs.  Or why not take a look at our full range of BBQ meats? All hand selected from the finest producers, available for delivery from Tom Hixson of Smithfield. 
Related Recipes
You might also like to try our carne asada tacos recipe or our slow grilled beef ribs, the perfect options for BBQs.  
chicken and chorizo kebabs, chicken and chorizo skewers, grilled chicken and chorizo kebabs,