A classic great British meal, sausage and mash is a comforting delicacy that's easy to whip up and delightful to eat.
Popular amongst children as well as ideal for quick weekday meals, sausage and mash is usually made with creamy mashed potato and pork sausages for simple yet tasty flavours.
As appetizing as it is, sausage and mash can become a bit too plain after a while, which is why it's nice to spice things up a bit and get creative with this family favourite.
Today, we'll be replacing everyday pork or beef sausages with chorizo sausages, and swapping plain mashed potato for garlic mashed potato for a tantalising chorizo recipe that's bound to impress.
Take a look at our full range of chorizo sausages today and discover flavours that illuminate every meal.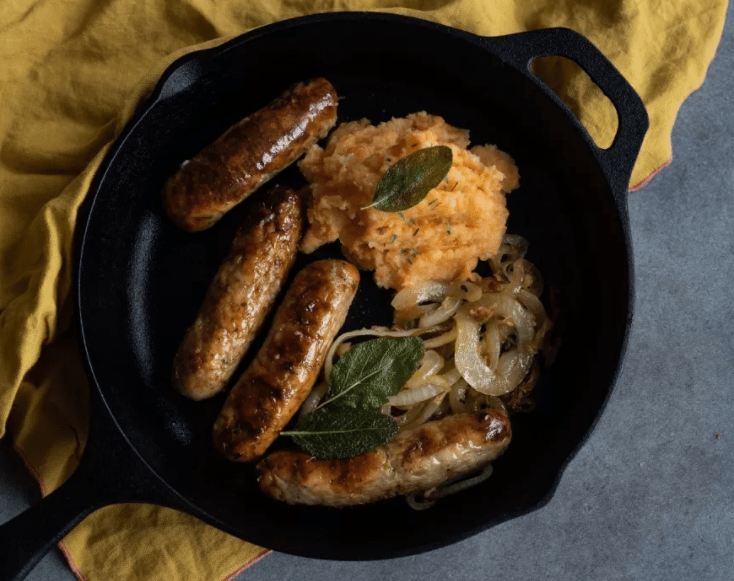 Sausage and Mash With A Twist
Instructions
Heat vegetable oil in a frying pan and place sausages in. Cook on low heat for 20 minutes, making sure to turn them regularly

During this time, warm cream and butter in a saucepan over medium heat until the butter melts. Put to one side

Place potatoes in a saucepan and cover them with cold water. Bring to a boil over high heat and add one teaspoon of salt before turning down the heat and leaving to cook for 20 minutes (or until tender)

Drain the potatoes and blend them using a blender

Transfer potatoes into a large mixing bowl and stir in the warm cream and butter mixture until the cream soaks in and the mixture is velvety smooth

Grate a clove of garlic into the potato and stir through. Add salt and pepper seasoning and plate up

Serve up the mash and place sausages on top

Slice up tomatoes and set them around the edge of the plate, and scatter basil leaves over the top of the sausages.
Notes
Keep our mash recipe safe and reuse it in other recipes to give your mashed potato that extra pinch of flavour.
Browse online butcher Tom Hixson's full range of sausages today and discover a wide variety of traditional as well as speciality varieties, including our Cumberland sausages and spicy chorizo , 
sausage and mash recipe, chorizo sausage and mash