Looking to treat your Mum this Mother's Day? Well, while you can't take her out for a nice meal right now, why not instead serve her this delicious dish created by our friend, top chef Harvey Ayliffe. Let Mum put her feet up while you cook these superb Lamb Racks with Hotpot Potatoes. The perfect meal to show her your love this Mother's Day.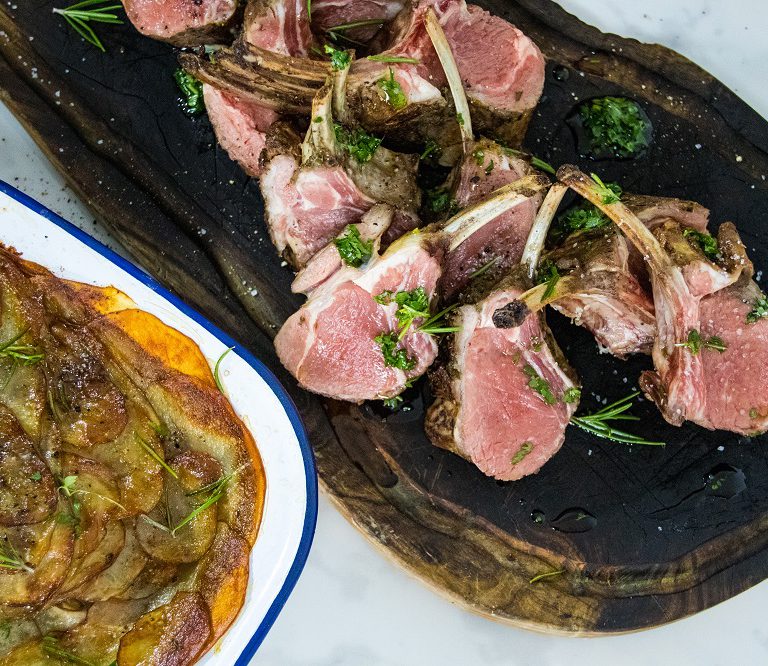 Mother's Day Recipe: Lamb Rack and Hotpot Potatoes
Lamb Marinade Ingredients:
Hotpot Potatoes Ingredients
Lamb Marinade Method:
To make marinade, remove all the leaves off the Rosemary and thyme discard the stalks.

Skin the garlic and put all ingredients into a blender and blend to a paste.

Now rub your paste onto your lamb racks and let it marinate for an hour or up to 24 hours.
Hotpot Potatoes Method:
Using a mandolin or with a knife, (I find it a lot easier to use a Japanese slicer), peel then slice your potatoes, do the same with the carrots, thinly slice your onions.

Crush your garlic and chop your herbs

In an oven proof dish, rub a bit of the butter then layer the potatoes. Cover with onions, garlic and herbs, season with salt and pepper then add carrots.

Add a splash of your hot stock and melted butter, continue this all the way up to the top.

When you get to the top, season in every layer, just lay the potatoes nicely on top like a tiled roof and season again.

Finish with the last of your melted butter.

Bake in an oven 180° for 1 hour to an hour and a half, until potatoes are golden brown and crispy on top and soft in the middle.

If there's any excess juice, just pour it off. Serve and enjoy!
Lamb Method:
Now for your lamb. Move it from the fridge 20 minutes before you want to cook it, this just helps cook it more evenly. I find it easier if you've cooked your potatoes and let them rest and then start your lamb.

Seal it off in a pan and put in the oven on 180° (put them together so they become like a Crown) and cook for 8 minutes.

Take them out of the oven and rest for a good eight minutes then add it back for another eight minutes. They are then good to serve.

If you want it closer to medium or medium well 10 or 11 minutes each time. Cut and enjoy.
Notes
For this superb Mother's Day dish, Harvey has used our fantastic French Trimmed Lamb Racks from our New Zealand Lamb range. Expertly cut and full of rich aromatic flavours, these fully trimmed racks are the perfect choice for this tantalising recipe.
If you're searching for more quality produce, be sure to check out our further offerings and buy Lamb online from Tom Hixson of Smithfield, your gourmet online butcher.
lamb rack recipe, hotpot potatoes recipe, mother's day recipe, lamb reciper