As the summer months have slowly crept up to us, so has barbecue season. Recently, it's become increasingly popular to have a barbecue at home, and there's nothing like a good barbecue ribs recipe to really get your tastebuds excited.
Barbecue recipes are known for extraordinary flavours that you wouldn't get from cooking in an oven, with infused smokey tones and rich textures helping to create dishes that are second to none.
Cooking at home doesn't have to be mundane, with pork ribs for BBQ's the perfect example of an exciting dish that can be whipped up in your garden. Our team at Tom Hixson of Smithfield has put together this BBQ pork ribs recipe to help you get started.
CHOOSING THE RIGHT RIBS
Each rack of pork ribs differs from the rest, with each rack offering its own unique flavours and textures. Tom Hixson of Smithfield provides an extensive range of pork ribs within the pork range, with the most common types of ribs including:
Baby back ribs – Smaller and meatier than other types of ribs and usually easier to grill due to their size
Spare ribs – Larger, usually more tender as they're taken from the belly side of the rib cage where there is more connective tissue
St. Louis style ribs – A firm favourite across America, these ribs are spareribs with the rib tips removed. They're slightly more difficult to cook than other ribs, but offer exceptional flavour once mastered
In this BBQ pork ribs recipe, we'll be using baby back ribs as they are some of the simplest ribs to cook with. We'll be demonstrating how to create your own marinade sauce and rub, however, different marinades and rubs can be used to suit your own tastes.
Some prefer to only use a marinade, some prefer to only use a rub and some prefer to use none at all! Pork ribs are a very flavoursome cut as it is, and adding marinades and rubs are down to personal preference.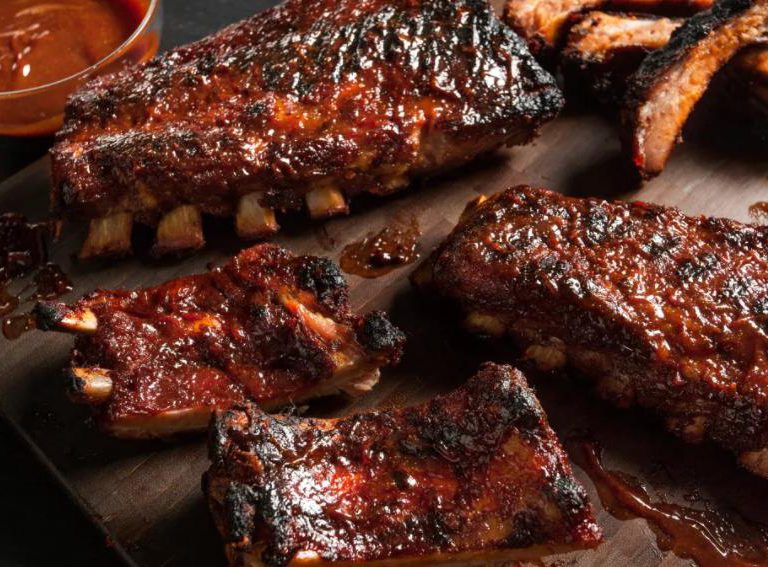 BBQ Pork Ribs Recipe
Instructions
Pat ribs dry with a paper towel and remove the silver skin from the ribs

Stir together the marinade ingredients in a bowl and then place the ribs in a shallow dish. Pour ⅔ of the marinade over the ribs, making sure to turn the ribs to marinade both sides

Refrigerate overnight

Take the ribs out of the fridge and drain the marinade from the dish

Stir together the ingredients for the spice rub and then use your hands to rub the spice mixture all over each side of the ribs. Make sure that the ribs are coated in the mixture to ensure full flavour

Preheat the barbecue grill to medium heat, making sure that the grills are clean

Place the ribs over the grill, and cook for around 30 minutes, being careful to turn them frequently so they are evenly cooked

Brush the leftover marinade mixture over the ribs

Serve with your favourite choice of barbecue sides!
Notes
Enjoyed this BBQ pork ribs recipe? Take a look at our blog for more foodie inspiration and expert advice for cooking up the perfect dish. Or why not shop our fantastic produce? You'll find plenty of gourmet BBQ meats, including our latest addition, the MEATER BBQ Meat Pack, which has a huge 9.2kg of meat included!