Chef Harvey Ayliffe shows you how to make your very own Five Guys burger at home. This much loved fast food choice has become a firm favourite amongst burger enthusiasts and we can see why. Complete with two succulent patties, plenty of cheese and of course, a slice of bacon to finish it off. This mouth watering double cheese burger has it all.
Want to personalise it? Just add what you like or remove what you don't!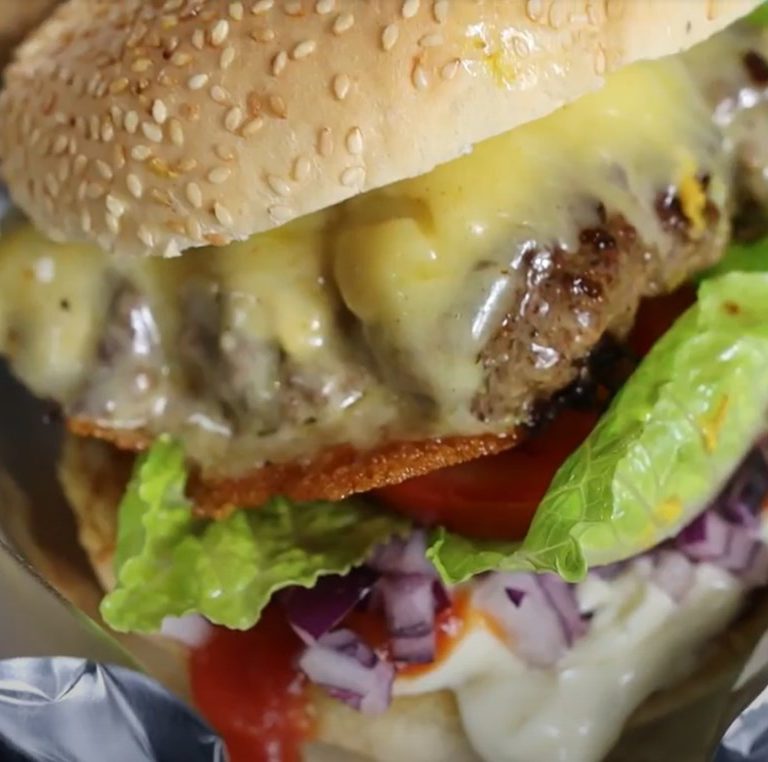 How To Make Your Own Five Guys Burger
Preheat your oven to 180°

Season your mince well with salt and pepper. Separate it up into four equal balls.

Now in a large frying pan add a little oil and fry off your pancetta until crispy. Leave to one side.

Now add a little bit more oil to your pan. When it's hot add your balls, one at a time and then flatten them with the base of pan or a spatula until they're flat. Add a good Squirt of mustard on the top.

When they are well sealed on one side, turn them over, cooking for a few minutes on the other side.

Add your cheese, then place on an oven tray and in the oven for 5 minutes until the cheese is melted and the meat is cooked through. Add your bacon.

Mix your mustard, mayonnaise, ketchup and red onions in equal amounts in a small bowl.

Toast the bottom of your buns then add your meat, dressing, lettuce, sliced tomatoes then gherkin then add top of your bun and enjoy.
Notes
There you have it! You're very own Five Guys burger, made in the comfort of your own home. For this particular dish, Harvey has used our flavoursome beef mince and excellent pancetta. Or alternatively, why not try our range of delicious steak burgers? From succulent 28 day dry-aged burgers with marrow butter, to our superbly flavoured British Wagyu burgers. 
burger recipe, five guys burger recipe, how to make five guys burger