What could be more comforting than a beef stew on a cold winter's evening?
This latest recipe from top chef Harvey Ayliffe is the perfect dish to serve up, featuring our superb brisket beef, slow cooked to perfection, completed of course with some delicious dumplings and a vegetable garnish.
Please read the recipe completely before starting as it's a two-step recipe.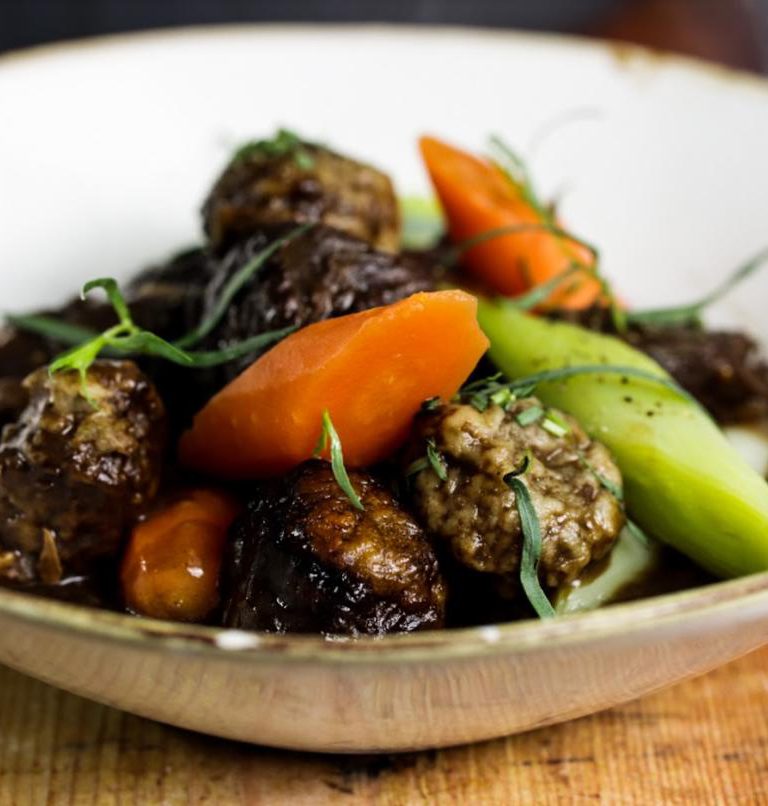 Beef Stew and Dumplings Recipe
Beef Stew
Vegetable Garnish
Dumplings
Beef Stew
Preheat your oven at 140° or gas mark 3

In a Dutch oven or thick base pan with a lid set on a medium to high heat, add a little oil and heat until the oil is hot.

Season your beef well with salt and pepper, now seal off in small batches. Colour the meat well on all sides, remove and drain and leave on a plate.

When all the meat is well sealed off, add your butter.

Scrape the bottom of your pan, turn the heat down to low and add your onions, garlic, thyme and black pepper and a good pinch of rocksalt.

Replace your lid and slowly cook your onions to soft.

When your onions are soft add your flour. Cook for 4 to 5 minutes mixing well, now add your wine and turn up the heat and then reduce your wine by half.

Now whisk in your stock, keep whisking until it comes back to the boil and you have a nice thick, smooth sauce. Add your beef and all the juices.

Put the lid on and place in the oven for 3 to 4 hours.
Vegetable Garnish
Cook vegetables in batches in boiling salted water till just tender, then drain and put to one side.

When your meat is nice and tender so that you can cut it with a fork, remove any excess fat with a ladle.

Stir your vegetables into your stew just before adding your dumplings
Dumplings
To make the dumplings add the flour into a bowl and add ½ tsp salt.

Stir through the suet and parsley.

Make a well in the centre and add 3 tbsp cold water, mix to a dough, adding more water until the dough is firm but pliable.

Now divide into ten equal balls.

When your stew has about 30 mins to go, arrange the dumplings on top of stew and cover with a lid and cook for 20 mins, then remove the lid and cook for another 10 mins until they're brown and puffed up.

Finish with fresh chopped parsley, serve and enjoy.

Any you have left you can place into bags and freeze.
Notes
Don't Have A Dutch Oven?
If you don't have a Dutch oven, you can also use a pressure cooker to recreate this latest dish too. We tasked Instant Pot to recreate Harvey's recipe, who used their Instant Pot Multi Pressure Cooker to turn our beef brisket into this classic beef stew and dumplings. Check out the recipe here for tips on using a pressure cooker to create this delicious dish.
For this particular recipe, Harvey and Instant Pot used our superb beef brisket, which you can shop yourself from our range of top quality beef. We offer a range of options when it comes to brisket. Choose from USDA beef, Australian beef and more from our latest selection of delicious whole brisket joints. 
beef stew recipe, beef stew and dumplings, how to cook beef stew