A steak and ale pie is the perfect cure for a cold winter's evening. This delicious recipe comes from top chef Harvey Ayliffe and features our top quality beef brisket for an unforgettable dish.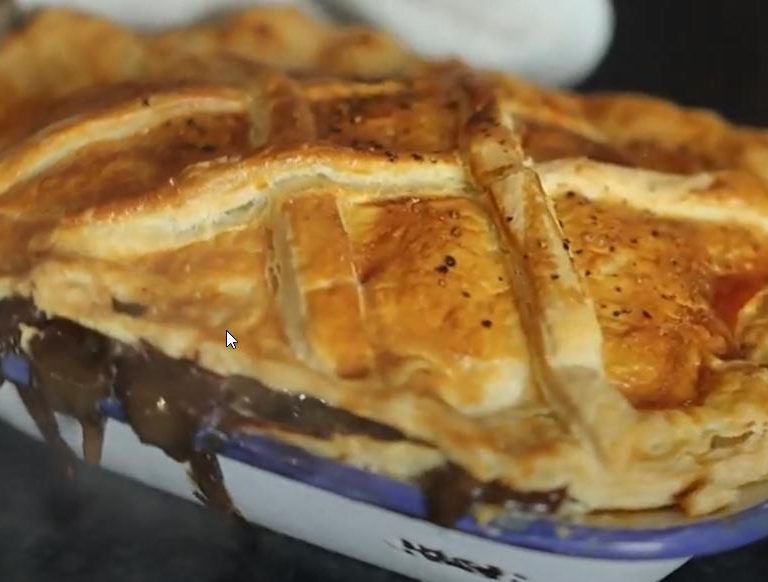 Steak and Ale Pie Recipe
In a large thick based pan add a splash of oil, dust the beef in a little flour and season well with salt and pepper then seal the beef well on all sides in small batches until all the meat is sealed.  

Remove meat from the pan.  Put the pan back on a low heat and add a splash of dark ale, scrape the base and add your butter, onions, thyme, garlic, salt and pepper and sweat onions until soft. 

Now add dark ale and reduce by half then add flour and cook for a few minutes.  Add beef stock, Worcester sauce and Dijon mustard and whisk together.

Now add mushroom purée and beef.  Cover and bake in the oven at 140 degrees Celsius for 2 to 3 hours till the meat is soft.  Ladle any fat from the top, mix then pour mix into a pie dish and cool. 

Dust the work surface with flour.  Roll your pastry about the thickness of a one-pound coin.   

Crack your egg and brush the edges of your pie dish. 

Carefully lay the pastry on the top of the pie, make a small hole in the middle with a knife. Now trim the edges with a sharp knife, then go around the edges pushing the pastry together with a fork.  

Now egg wash the top of the pie, place into a preheated oven at 170 degrees Celsius for 20 to 25 minutes until golden brown. 
Notes
Serve with mashed potatoes and seasonal vegetables for a classic dish that you can serve up any night of the week. 
To make the blended mushrooms, add flat mushrooms to a blender with a splash of beef stock, add salt and pepper and blend until smooth.
For this steak and ale pie, Harvey has used the Tom Hixson of Smithfield beef brisket, which is the perfect cut of meat for this dish, with plenty of marbling for a pie filling full to the brim of incredible textures and flavours.
steak and ale pie recipe, steak and ale pie, steak pie recipe, how to make steak and ale pie