Who says you need to go out for a meal to enjoy a romantic Valentine's dinner? We've got plenty of ideas on how you can create a delicious meal for you and your other half this February 14th. Plan the perfect night in using our superb range of quality meats to rustle up a tantalising recipe for your Valentine.
Below are a few of our favourite steak recipes which we think are perfect for serving up this February 14th.
Beef Tartare
Back in September, we shared this delectable Beef Tartare recipe, created in collaboration with chef Harvey Ayliffe. This flavoursome French delicacy uses our USDA beef fillet paired with a distinctly flavoured sauce for an unforgettable meal that is simple to recreate.  
Watch the video below featuring top chef Harvey Ayliffe, to see exactly how to serve up this delicious dish.
Wagyu Dipping Sauce
Wagyu steak is the perfect choice for a romantic dinner this Valentine's day. This world renowned steak offers rich marbling and a deep flavour that helps to create a truly luxurious dish. To complement this high grade meat, we've put together some delectable dipping sauce recipes, perfect for pairing with our Wagyu steaks. 
Steak Rossini
If you've never tried your hand at a Rossini then this is definitely the time to give it a go. Fillet Steak Rossini is a classic French dish that offers rich flavours and a Madeira sauce that will tantalise your taste buds.
Take a look at our recipe for Steak Rossini which can be created using any of our beef fillet steaks.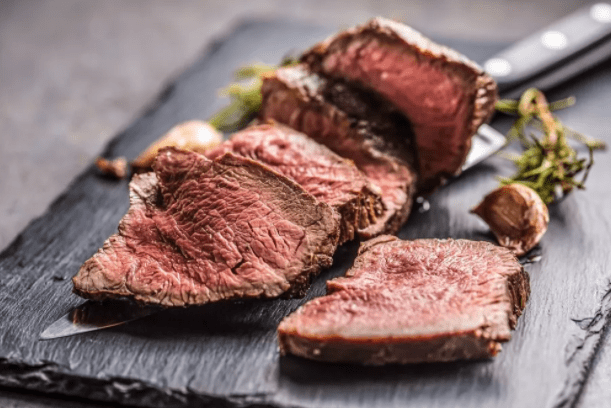 Smokey Ribeye Steaks
Looking for something a little spicy this Valentine's? Then this smokey ribeye steak recipe is the perfect dish to serve your other half. Make sure to add plenty of Paprika to your ribeyes for that distinct smokey flavour .
Rump Steak Sauce Recipe
If you're planning on serving up a dish of rump steak this Valentine's, then be sure to pair it with this delicious Béarnaise sauce. A classic French sauce, the Béarnaise is a perfect choice for rump steak, with its creamy texture pairing beautifully with this firm yet succulent cut of beef.
You can find our recipe for Béarnaise sauce here. Be sure to take a look at our superb rump steaks handpicked from the finest suppliers. 
Authentic Argentine Steak
If you've chosen one of our sensational Argentine steaks, then you are in for a real treat this Valentine's. These famous cuts are world renowned for their quality and flavour, steeped in history, with rearing methods that date back hundreds of years. 
Take a look at our guide on how to cook Argentine Steak, featuring a sauce recipe that is simple to make yet full of authentic Argentine flavour. 
So, if you're planning a steak dinner this Valentine's, make sure you take a look through our extensive range of quality beef. Where you will find a wealth of choices when it comes to ribeye, sirloin, fillet, rump and more.
Be sure to tag us in your dishes this Valentine's day over on our Instagram @hixsonmeatldn.