Want your BBQ wings to be next level crispy this year? This is a no-fry baked method so works perfectly indirect on the BBQ. These chicken wings are super tender on the inside and have all the crunch on the coating. And this recipe does them two ways, tangy buffalo and sticky sweet and spicy gochujang. Really easy to do, just add the ingredients below to your shopping list first.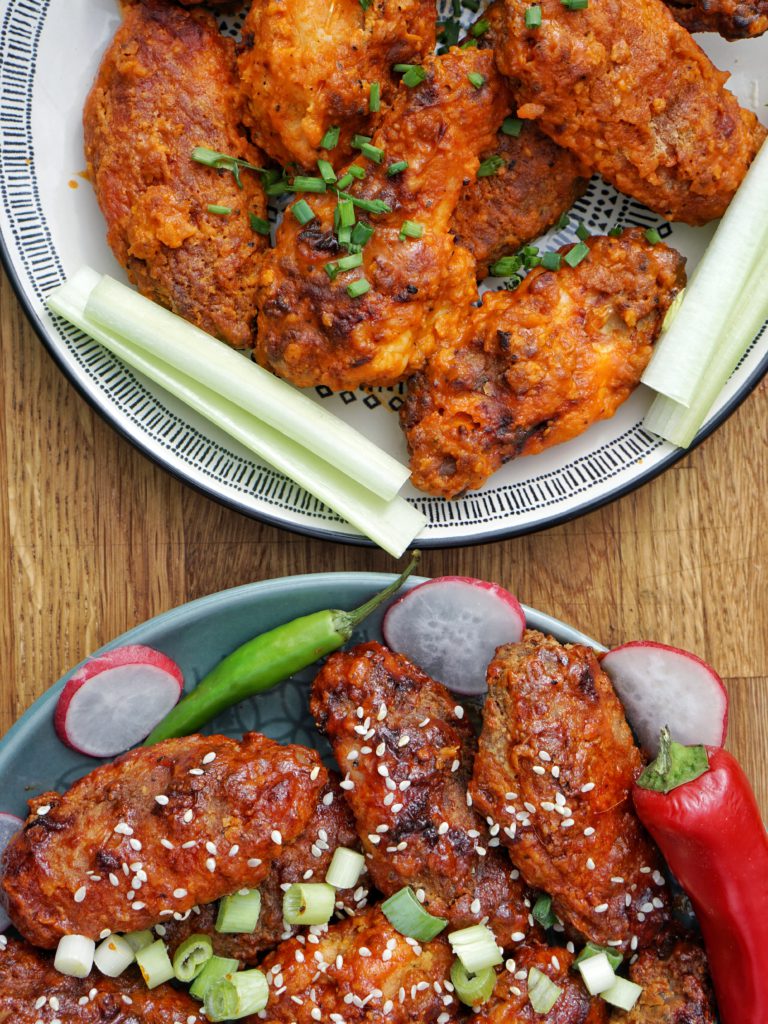 Awesome Chicken Wings With Gochujang And Buffalo Sauce Recipe
Description
This chicken wings recipe is perfect for the BBQ, as it is a no-fry baked method. Grilling on the BBQ gives the wings a crunchy coating but super tender on the inside. Incorporating two sauces, tangy buffalo and sticky sweet and spicy gochujang. 
For The Wings
For The Sweet & Spicy Gochujang Sauce
For The Buffalo Sauce
Method
The first thing you need to do is grab a large bowl that will fit in your fridge, put one pot of the buttermilk into the bowl, then separate all the wings and add them to the bowl, and finally add the second pot of buttermilk. Give them a good mix round to make sure the buttermilk is coating all the wings. Ideally you would want the wings to sit like this for a minimum of 4hrs, but 8 is better, this helps to tenderise the wings. When you are ready to cook, take the wings out and tap them out onto a wire rack so the buttermilk can all drip off. 

Now it's time to set your BBQ up for indirect cooking; that means your wings wont sit directly over the heat source – whether that be charcoal, gas or wood pellets; they would sit off to the side or be shielded by a deflector plate.  

Set the heat for around 160c-180c. 

In a bowl add together the flour, baking powder, salt, pepper, garlic powder and onion powder. Dip each of the wings into the flour and press down hard until they have a good coating of the flour. Once all the wings are done, lay them all out on the BBQ and leave to cook; if your BBQ has a lid make sure the lid is down.  

During this time, you can make the gochujang but be sure to check the wings regularly every 10 minutes or so and move around and turn if some are cooking faster than others. As they start to dry, spray them with the cooking spray, this will help them to crisp further but do not spray directly into the flames. You may want to do this 2-3 times during the cook. The wings will take around 30-50 minutes depending on the heat of your BBQ. You will be looking for them to be nice and crispy, and to have an internal meat temperature of over 75c 

To make the sauce, add the gochujang sauce, rice wine vinegar, soy sauce, honey, sesame oil, ginger and garlic powder into a small saucepan and heat over medium heat, stirring occasionally.  Watch the sauce as when it starts to boil you need to reduce the heat down, so it is barely simmering, then leave for another 5-10 minutes.  

The sauce will then start to reduce and thicken. At this point you can add in a splash of water if you want to thin it down to a pouring sauce or leave as is for a dipping sauce. 

When your wings have finished cooking, remove them from the BBQ and add 12 of them to a large mixing bowl. Then just pour enough of the gochujang sauce over the wings till they have a good covering and give them a toss. You can then garnish with sliced radish, toasted sesame seeds and sliced spring onions. 

Top with a sprinkling of toasted sesame seeds and chopped green onions and serve immediately. 

In another pan gently warm your buffalo sauce of choice, add the final 12 wings to a bowl and toss them in the buffalo sauce. Serve with slices of carrot and celery and a dip of your choice.  
Notes
Quality Produce
If you fancy trying this awesome chicken wings recipe yourself, make sure you use our jumbo chicken wings, a classic for any BBQ menu. 
Related Recipes
For further BBQ inspiration see our selection of grilling recipes. 
chicken wings recipe, buffalo chicken wings recipe, gochujang sauce recipe, bbq chicken wing recipe,