Looking for a healthy take on a Sunday classic? This healthy Sunday dinner is ideal if you are watching your macros but still want to serve the family a delicious lunch. Made with our succulent grilled chicken breast with a side of crispy rosemary and garlic roast potatoes, sautéed Brussel sprouts, white wine and onion gravy and of course, a Yorkshire pudding to finish.
This latest recipe comes from WeAreFitMob's Mitch and Danielle, who are lovers of quality food and specialise in creating healthy recipes for their coaching community.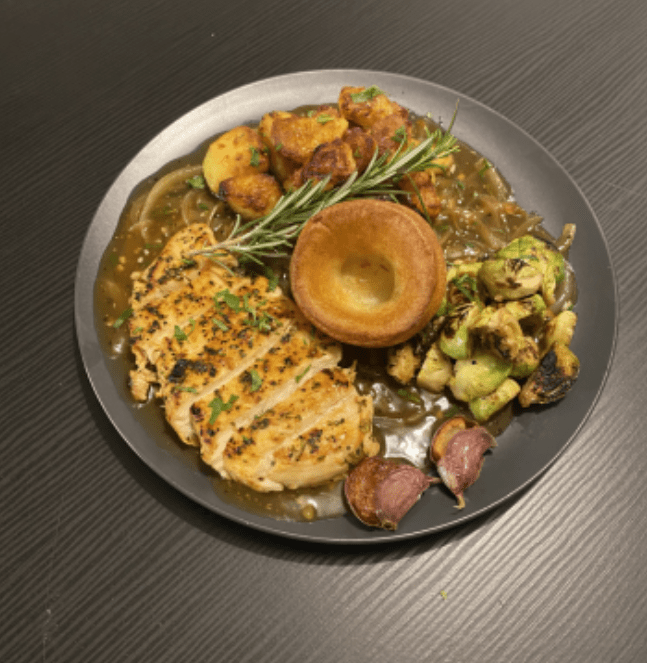 Healthy Sunday Dinner
Instructions
Butterfly chicken breast, cut into 1.5-inch pieces or keep whole. Season with 1 tbsp of seasoning such as all-purpose (optional).

Peel and cut potatoes and place in a pan of cold salted water and bring to a boil, cover and leave to simmer on medium-high heat until fork-tender.

Preheat oven to 220C. When potatoes are cooked drain and leave to steam dry before adding back to the pan. Add 5 sprays of oil to the potatoes and shake them around in the pan to coat evenly and rough up the edges for extra crispiness when baked.

Add potatoes to a baking tray with one clove of garlic left whole in its skin and place in the oven. Turn potatoes every 5- 10 mins until golden brown and crispy.

Add chicken to a non-stick pan preheated to medium-high heat with a couple of sprays of oil and cook 75% of the way. Remove and set aside.

Add quartered Brussel sprouts to the same pan at medium-high heat and season to taste with salt and pepper. Cook for 5 mins turning occasionally until charred. Add a small amount of water and cover and steam until cooked through. Remove, add a squeeze of lemon juice
and set aside covered to keep warm.

Wipe pan dry and heat to medium-high adding a couple of sprays of oil. Chop and add the onion and cook for 5 mins stirring occasionally. Next, chop and add the other garlic clove, cooking for 30 secs before adding the bay leaf and half the sprig of rosemary. After another 30 seconds, add
the Worcester sauce and white wine, reducing until most of the liquid has cooked off before adding water and half a stock pot.

Add chicken breast back to the pan to reheat and once the gravy has thickened turn off the heat add a handful of chopped parsley, adjust seasoning to taste with salt and pepper and cover.

5 mins before potatoes are done add the other half sprig of rosemary. Remove potatoes and squeeze the garlic out of its skin and toss potatoes in it.

Finally, cook the Yorkshire pudding according to instruct on the packet, plate everything and serve.
Notes
Nutritional Info:
Protein - 37g
Carbohydrate - 44.5g
Fat - 7.5g
Lower Calorie Alternatives:
No Yorkshire pudding (-57 Cal)
Use only 80g potatoes (74 Cal)
Quality Produce
To re-create this tasty dish, shop Our 5kg chicken breast, high in protein and low in fat, our quality chicken breast is ideal for bulk buying and meal prepping. 
Healthy Sunday Dinner, healthy Sunday roast, healthy chicken dinner