This tasty Banh Mi Sandwich is the ideal option for a healthy lunch. A delicious baguette filled with pickled Asian vegetables, grilled Char Sui chicken breast, fresh herbs and a sweet and
spicy sriracha dressing.
Made using our succulent chicken breast, perfect for those looking for a high protein sandwich recipe.
This latest dish comes from our friends, WeAreFitmob, who run an online community and coaching service, providing healthy recipes that don't compromise on flavour or quality.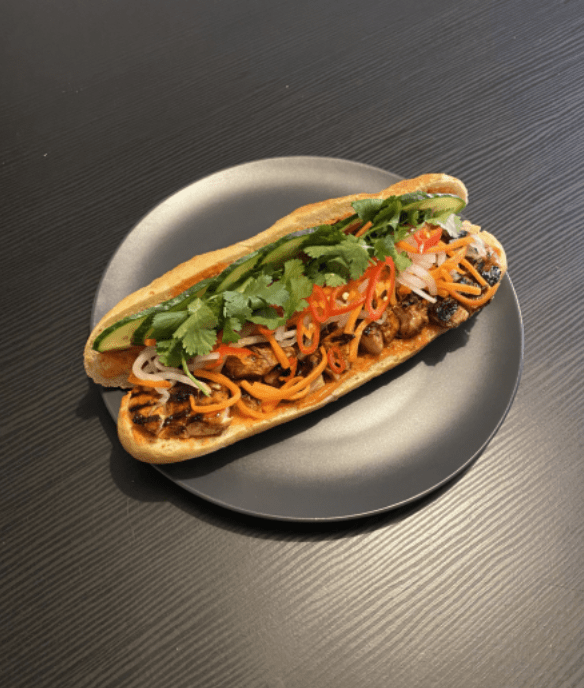 Bánh Mì Sandwich
Instructions
Begin by making the pickled slaw. Peel the carrot and daikon. Place a bowl on weighing scales then shred into matchsticks until you have 12g of carrot and 25g of daikon. Add white vinegar, warm water, 14g of the honey and a pinch of salt. Leave to sit for at least 30 mins (the longer the better).

Next, butterfly the chicken or alternatively cut into 1-inch pieces and marinate with hoisin, soy sauce, the rest of the honey, five spice, ketchup, 1 garlic clove (crushed), salt and pepper to taste and set aside.

If the baguette happens to be dry or stale, sprinkle some water on the top and place into a preheated oven at 200C for 2-3 mins.

After a minimum of 10 mins marinating the chicken, slice through the baguette leaving the back intact to act as a hinge and hollow out the inside by removing approximately 1⁄3 of the bread.

To prepare the sriracha dressing, combine the mayonnaise, sriracha and Maggi liquid seasoning in a bowl, mix well.

Slice cucumbers and chillies but keep the coriander whole for garnish and set aside.

Preheat a non-stick griddle/pan to medium-high heat, once heated add the chicken and leave to cook for 4-6 mins before flipping and cooking for a further 4-6 mins, ensuring it is cooked through. Remove the chicken and set aside to rest.

To assemble the bahn mi, spread an equal amount of the sriracha dressing on the inside of both sides of the baguette. Slice and add chicken breast followed by the drained pickled slaw. Finally garnish with cucumber, chilli and coriander. Plate and serve.
Notes
Nutritional Info:
Protein - 38g
Carbohydrate - 84g
Fat - 3g
Lower Calorie Alternative:
Remove hoisin, honey, and ketchup from marinade (-76 Cal)
Remove mayonnaise (-18 Cal)
Use only 60g of baguette (162 Cal)
Quality Produce
Shop our 5kg chicken breast packs to create this and other flavoursome high protein dishes. Great for meal prepping and bulk buying. 
Banh Mi sandwich, Banh Mi recipe